On the fresh and dazzling Mediterranean seafront, the Daniel Hotel Herzliya is Israel's most pleasurable setting for business or leisure visits.
The hotel boasts world-class design, state of the art business facilities, sumptuous kosher catering, and magnificent service.
On the beach, on the pulse
Just 10 kilometers from Tel Aviv on a major freeway, the Daniel Hotel Herzliya is positioned in the Herzliya-Pituach business district. This outstanding location allows guests to benefit from convenient proximity to Israel's busiest business districts, while enjoying fresh sea breezes. Daniel Herzliya Hotel uniquely combines a corporate location adjacent to a business park, with tranquil sea views and nearby trendy bars and cafés.
The Daniel Herzliya Hotel is fully equipped to offer everything the business traveler requires, including fast, wireless internet access, a business club and state of the art conference facilities.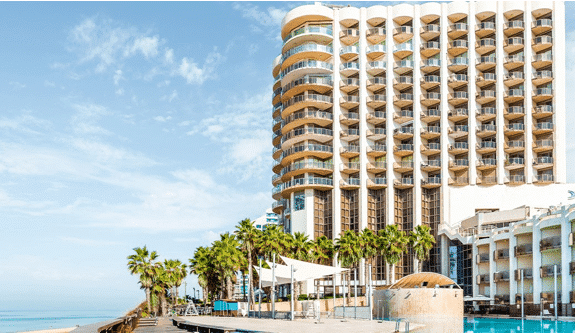 *** The organizers will assign students together to share double rooms. If you wish to share the room with a specific student, please contact us by email.